Visiting adress:
Rosenborgsgatan 26, Karlstad
Telefon (Research hall reception):
010 – 833 11 80
---
If you prefer to take a bus, Line 3, Line 13 and some departures of Line 12 run between the main square downtown and the bus stop at the Central Hospital, which is just across the street from the Archive Center.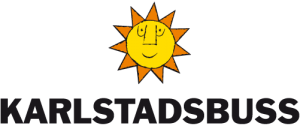 ACCESSIBILITY
Parking: Public parking is found near the Archive Center's main entrance (marked P9). Two spaces closest to the main entrance are reserved for disabled parking.
Entrance: The main entrance has automatic doors.
Elevator: The elevator doors inside the main entrance open and close automatically.
Restrooms and cloak-room: On 3rd floor, opposite the visitor reception, there are restrooms with handicap accessible toilets and a changing table.
The cloak-room has coat racks and several lockers with keys (free of charge) for storing personal belongings.
Next to the cloak-room is a furnished lunchroom with a refrigerator, a microwave oven and an electric kettle, with complementary coffee and tea.
There is also a cloak-room on 4th floor, adjacent to the lecture hall, Edbergsalen.
Listening devices: Edbergsalen is equipped with audio induction loops.
Service dogs: Service dogs are welcome in all areas of the Archive Center.
First aid: There is a defibrillator behind the reception desk on 3rd floor.
Wifi: The Archive Center offers free wifi.